I suppose it's only coincidence, but a surprising number of significant anniversaries are being celebrated this year. Of course, anyone reaching this page almost certainly knows all about the Corvette's big milestone and there's a good chance you are aware that this is also a special year for some other vehicles, too. The Ford Motor Company and Harley Davidson are both marking their first 100 years in 2003 and the Wright brothers first got their vehicle off the ground a century ago. Ohio, my home state (Wilber & Orville's, too) is celebrating 200 years of statehood and it was about the same time that the Lewis & Clark Expedition began to take solid form. Here are some 2003 birthdays that I'm aware of. Click on the graphics for more info.
Lewis & Clark and the Corps of Discovery did not actually depart St Louis until the spring of 1804 but wheels were turning early in 1803. In January, President Jefferson sent his secret letter to congress asking for $2500 to fund an expedition to the west. There were several reasons that the letter was a secret but the most obvious is that the Louisiana Purchase would not even happen for another three months. By the end of 1803, Lewis & Clark were camped on the Mississippi getting ready to start their journey when weather permitted. That turned out to be on May 14, 1804 and the Corps spent the next 28 months traveling to the Pacific Ocean and back. Events commemorating various parts of that incredible accomplishment will be happening over the next few years.

Ohio was admitted to the union as the 17th state on March 1, 1803. Just one day after congress approved Jefferson's request for traveling money. Among the ways we're celebrating are a five year project to paint the bicentennial logo on one barn in each of Ohio's 88 counties and the casting of a 250 pound bell for each of those counties over two years. Events, including several bell castings, will continue throughout the year.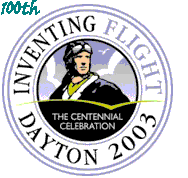 The invention of powered flight was certainly one of the biggest events of the twentieth century. Big enough, in fact, to have two states legitimately boasting about their contributions. Dayton, Ohio, was the inventor's home and where most of the construction and experiments occurred. But it was with the more predictable winds of North Carolina's Outer Banks that man left the Earth's surface in a heavier than air powered machine. Naturally, I tend to focus on events in my neighborhood near Dayton but readily recognize North Carolina's claims. In conjunction with their own big birthday, the Ford Motor Company is sponsoring Countdown to Kitty Hawk. Sadly, it is left up to individuals to coordinate celebrations in Ohio & North Carolina since each set of organizers appears to be totally ignorant of the other.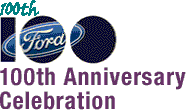 A group headed by Henry Ford incorporated the Ford Motor Company in 1903 and a hundred years later Dearborn, Michigan, will be the site of a really big birthday party. June 12th through June 16th are the dates and I'm guessing that a few Michiganders will stop by to toast Henry before heading south to toast Zora.
Harley folks certainly know how to party and they're taking this birthday party around the world. Things got a good start last year with events in the US of A and they continue this year in Australia, Japan, Spain, and Germany. Then, at the end of August, a gathering at Harley-Davidson's home in Milwaukee will top things off.

Bob Hope was born in the same year as Harley-Davidson and the Ford Motor Company and it's kind of nice to have a real person in this list of corporate celebrants. He was born in England but relocated to Cleveland, Ohio, at the age of four. As "Packy East", he tried boxing but quickly switched to Vaudeville. Both moves worked out well for him. Bob Hope's name has been placed on a US Navy ship. He has been knighted, has multiple stars on Hollywood sidewalks, and is the only person ever named an "Honorary U.S. Veteran" by the United States Congress. There are, in fact, so many awards and honors that he is listed in Guinness as Most Decorated Entertainer.

In order to reach its current state in just 100 years, powered flight had to grow at a phenomenal pace and some of the earliest growth occurred just a little south of the Wright brother's home; about 50 miles south, as the bi-plane flies. Barely two decades after the airplane's birth, Lunken Airfield began life near Cincinnati. It was here that Embry & Riddle taught the adventurous to fly in the 1920s and American Airlines started in the 1940s. Lindbergh refueled at Lunken both going to and returning from his earth shrinking New York to Paris flight. The 75th birthday of this ongoing site of aviation history will be celebrated September 13 & 14.

I just now (May, 17) learned of this big birthday for one of the most famous of Route 66 landmarks and it's a little frightening that I nearly missed noting it. This is a place that I'm very much looking forward to visiting again. Anyone who knows anything about Route 66 has probably heard about the Delgadillo brothers in Seligman, Arizona. Angel Delgadillo has been instrumental in preserving and bringing attention to the historic road. He started cutting hair in Seligman in 1950 and, although "semi-retired" since 1996, can still be found at his barber shop. With a lot of scrap lumber and help from his father, Juan Delgadillo built the Sno Cap in 1953. He and his son operate it today. I could not find a Sno Cap web site but here is one of the many pictures and descriptions to be found on the web. I'm sorry that I won't be there for the actual birthday celebration on July 25th & 26th but thankful that I'll be visiting this wonderful town during the Sno Cap's 50th year.

In 1953, a guy named Harold opened a place called Danny's in Lakewood, California. Six years later, it was a chain of twenty restaurants and the name was changed to Denny's. After fifty years, there are nearly 1700 Denny's restaurants and it is "the largest full-service family restaurant chain in the United States".

A name change at the six year mark just might be a secret ingredient to success. In 1953, a guy named Troy opened a place called Top Hat in Shawnee, Oklahoma. Six years later, Top Hat became Sonic. The name came from the car side microphones & speakers that Troy had added in 1954, after seeing them at a restaurant in Louisiana. The new technology let customers place orders from their cars and get "Service with the Speed of Sound". Today there are more than 2600 Sonic Drive-Ins in "the nation's largest drive-in chain".

James Watson and Francis Crick did not invent Deoxyribose Nucleic Acid nor did they even discover it. What they did do on, April 1, 1953, was publish a description of the double helix structure that opened the door to the still growing understanding of DNA. There were many others involved in research at the time and Watson & Crick readily gave credit to Maurice Wilkins, Rosalind Franklin, Linus Pauling, and others who set the stage for their intuitive break through. Watson and Crick, along with Maurice Wilkins were awarded the Nobel Prize in 1962. One of the more ambitious and well known DNA related efforts is the Human Genome Project, headed by Watson, that resulted in the recently completed sequencing of the human genome.

Over 25 million US homes contained television receivers in 1953 when TV Guide magazine's first issue appeared. That April 3rd issue (with Dino, Desi, & Billy's future drummer on the cover) sold over 1 1/2 million copies and circulation reached a peak of 19.7 million in 1975 before dropping back to a little less than 10 million today. In the days before cable, video rentals, & the internet, TV Guide was the "bible" of home entertainment and I'm sure that some weekly trips to the grocery were as much to get next week's issue as to stock the pantry. In addition to the combination of local and network schedules that was its reason to exist, each issue contained several short articles and a crossword puzzle. In those long ago days before remote controls were everywhere, those articles and puzzles offered a primitive means of skipping commercials. Besides that first cover, the one from July 22, 1961 seems worthy of mention here.

On May 29th, Tenzing Norgay and Edmund Hillary became the first humans to reach the 29,035 foot high peak of Mount Everest. Since then, something like 1200 people have "summited" and, if you think you're up to it and have $65,000 or more set aside for your next vacation, you can give it a try. International Mountain Guides is a good place to start. Even though things are much improved since Edmund & Tenzing showed the way, eight climbers perished in what is referred to as "the best year". It's "the best" because of the high ratio of people reaching the summit (129) and those dying in the attempt (8). No information on how many just gave up, perhaps wisely.

Just a couple of days after Hillary reached the top of Everest and 29 days before the first production Corvette was completed, the Thunderbirds (officially the U.S. Air Force Air Demonstration Squadron) were activated. That was on June 1, 1953. From the F-84G Thunderjets of 1953 and 1954 to today's F-16C Fight Falcons, the Thunderbirds have used some of our country's most advanced fighters to entertain millions with some very advanced precision maneuvers. Their first big show was at Dayton, Ohio, in September, 1953 and they will be back in Dayton for the July Inventing Flight celebration.

Hugh Hefner put no date on the one issue he published in 1953 because he wasn't sure if or when there would be a second. He also avoided having his name appear in that first issue for the same reason. But, with the help of a nude Marilyn, over 54,000 copies were sold and the Playboy empire was on its way. These days the magazine sells about 4 & 1/2 million copies and Hugh's name and a date are in every one.

In the summer of 1983, I left a perfectly good job with a large corporation to work for a company that didn't quite exist yet. Mattec Corporation does exist today and will celebrate its twentieth anniversary on July 5th. That's a lot less than the century that Ford and Harley-Davidson are celebrating and our size is not in the same neighborhood as theirs, either. But those two decades are a very significant part of my life and it is a birthday that I'm really looking forward to.