---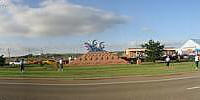 The cars and the doughnuts were lined up in Tucumcari as we prepared to start the third day of caravanning. The Corvettes headed out of town with a police escort and plenty of waving onlookers. You may think that there are two men dressed identically in that first picture but it's just one guy moving faster than I was.
---

Having their car on a trailer certainly indicates some bad luck for Jim & Michele but it also indicates a large amount of good luck. They were traveling at highway speed when the '66 roadster spontaneously converted itself to a tricycle. But no one was injured and early impressions were that there was no damage to body or suspension. When properly weighted, that's probably a lot more good luck than bad.

ADDENDUM: I met up with Jim & Michele at the Memphis lunch stop on Thursday. The car had been repaired and they were once again enjoying the caravan.
---


A brief stop near Amarillo to connect with the North Texas Caravan. Members of the Amarillo Area Corvette Club helped guide cars in and out. After a quick refueling of cars and drivers, we were on our way with about 25 more cars.
---




Lunch was at a pleasant park in Elk City, OK. Caravan members received discounted admission to the neighboring museum complex which includes the National Route 66 Museum. The Oklahoma State Route 66 Museum is just up the road in Clinton and it would seem that the two can't help but interfere with each other.

You'll have to trust me when I tell you that Daytonian Don Rutledge is in the black car. Don flew from Dayton (Yes, the one in Ohio.) so he could ride with his buddy and the Corvette Club of Santa Barbara. I really intended to get a "real" picture of Don but never quite made it so had to use this one. Sorry, Don.
---




After dinner in Oklahoma City, we traveled to the Oklahoma City National Memorial caravan style. In places, the police assistance and waving spectators gave the drive a little parade flavor.
---



I had visited the memorial just a week ago but had not gone into the museum. Tonight, the museum was opened to caravaners only but no pictures are allowed in the museum display areas. The last picture is from one of the chalkboards in front of the museum.
---